Restaurant Mar ao Carmo
The restaurant is located in the Carmo Square, with an overlooking terrace above the ruins of the Carmo Convent and with an interior that welcomes you with an aquarium, allowing to serve national fish and seafood. Santolas, crab and shrimp that are accompanied by navalheiras, lobsters and lavagantes make the joy of those who visit us.
The cuisine is based on the classic confection, the fish is grilled, "scaled" and served with a touch of modernity. Every day the showcase of fish and shellfish is prepared with fresh produce, often unknown to the eyes of the customer but that arouse curiosity.
It is easy to imagine the Sea when we already have the flavor and the smell.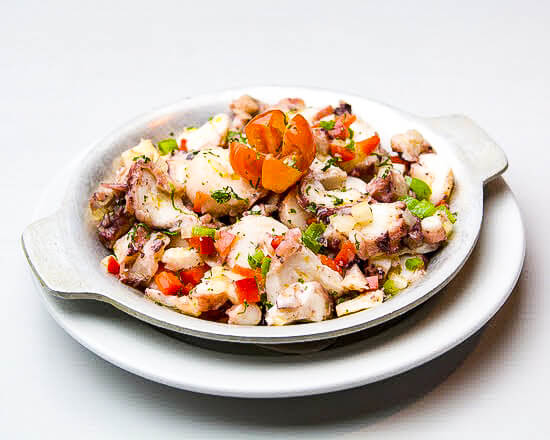 Perfeito




Excelente jantar, serviço rápido e simpático. Comemos uma cataplana de marisco fantástica, só acho que a carta de vinhos verdes (pelo menos foi na que reparei porque bebi verde) devia ser mais elaborada já que é uma casa com muito marisco. De resto tudo perfeito, adorei, recomendo, preços acessíveis.

by

Liyaogn Lisboa, Portugal
Great place for seafood!




We went there for our last dinner before returning home. We were recommended by our hotel for the best seafood in the area. What a surprise! We had the best seafood there during our trip in Lisbon. We ordered the rock crab which was so good and the lobster cataplana was huge! Both were reasonably priced as well. We would definitely go back when we are in Lisbon again!
Un restaurant juste parfait !




Nous avons mangé à trois reprises dans ce restaurant, le service est juste parfait, et la cuisine du poisson est parfaitement réalisée! Tous les serveurs ont été très à l'écoute et attentionnés. Nous vous recommençons fortement cette adresse !
Eccelente




Piatti prelibati, pesce fresco e ben preparato.Abbiamo cenato fuori e abbiamo speso qualcosina in piu ma ben spesi.Attenti ai ladruncoli che si aggirano nella piazza: a noi ci hanno tentato di portare via una borsa ma ce ne siamo accorti.Personale gentile e simpatico.Era quello che volevamo.Bravi.

by

Massimiliano A. Venezia
Attenti a non sbagliare




consigliati dalla reception del b&b e invogliati dalle splendide recensioni siamo andati a cena in questo ristorante. Accolti da un cameriere che parla molto bene l'italiano e che è stato in grado di consigliarci i piatti in base alle nostre aspettative. Abbiamo preso una sorta di zuppa di pesce servita in una pentola di rame: sublime; e una grigliata di pesce che non ha paragoni. Però attenzione: la prima sera mi sono sbagliata e sono andata in un ristorante vicino con un nome simile che non è assolutamente all'altezza.

by

Laura7007 Roma, Itália
Pre-Booking Information